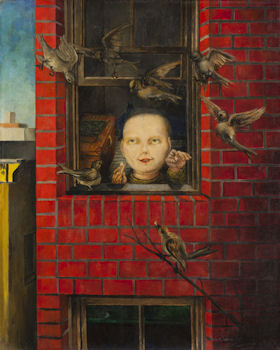 This song was inspired by the painting
"Lily and the Sparrows"
by Philip Evergood (1939)
A red brick tenement
An open window to a tiny room
A little bit of bread
Dry and crumbled, or so we may assume
Chorus
Still it's nice for the birds
To have a place to call their own
Yes, it's nice for the birds
To have a home
Upon the windowsill
Tiny fingers on a sentimental hand
Somewhere very near
Looking on at something they don't understand
Chorus
Suspended as they are
Feather beating hearts
Quiet carrying
Sacrificial wings
Chorus
Somewhere on the roof
Up above the city, underneath the blue
Until they return
She will not be hungry just as long as she is true
Chorus
Words and Music by Rick Prescott
Copyright © & Ⓟ 1995 Lowell H. Prescott. All Rights Reserved. Used by permission.